We love October! This month is a turn toward winter, with cooling temps and the onslaught of emails about renewing our mountain passes. This time of year is called "Locals Summer" because the vacation crowds have gone and we can find a good seat at our local watering hole.
The SNOW Sports Museum team is busy working with Placer County on the Environmental Impact Report, and many of our ambassadors are already training for kick-off events in October. Look for a complete update on both of those subjects this month.
Magic in the Mountains Movie Showings
We are excited to announce two upcoming events in support of the ski-history community and to help get us excited for the season. The SNOW Sports Museum and Coolfire Studios are proud to present three showings of the documentary Magic in the Mountains.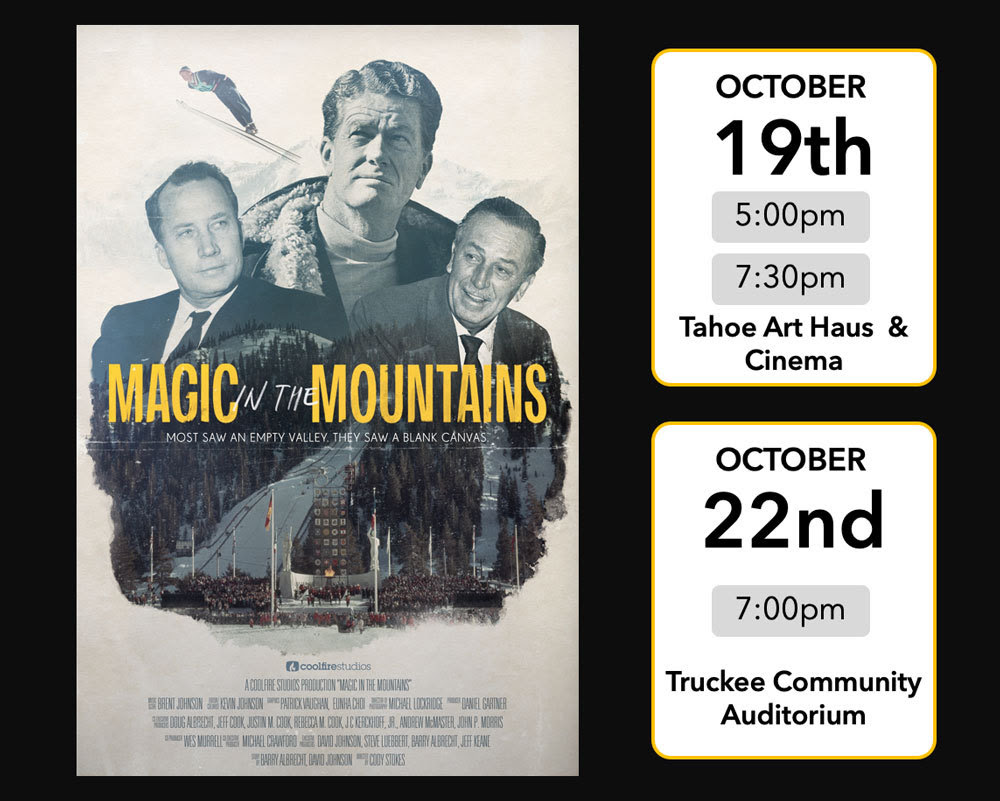 Raffle prizes and a post-movie Q&A with some featured principles from the movie will take place after the Truckee screening. Beer, wine & soda will be available for purchase.
Magic in the Mountains tells the remarkable underdog story of how a little-known ski area in California won the bid for the 1960 Winter Olympics and, with the help of Walt Disney, changed forever the ways in which the Games were presented. The documentary features never-before-seen archival footage from the 1960 Winter Olympic Games in Squaw Valley and revealing interviews with participating athletes and attendees. You are sure to recognize some of your local friends in this remarkable film.
Join Us on Social Media
As part of our 2021 goals, we will be increasing our communication to everyone as we have more stories to share and projects in the works. Please follow us on Facebook and Instagram to see our weekly posts about iconic Tahoe athletes and the historical artifacts we have collected for the museum.
Thank you from the SNOW Sports Museum Team!
The SNOW Sports Museum (dba SVSMF) is a 501(c)(3) not-for-profit organization. The foundation mission and objectives are to build a world class museum to offer cultural, historical and educational opportunities for people of all ages and abilities, especially youth. All purchases and donations support these efforts. Rights Reserved, SVSMF.