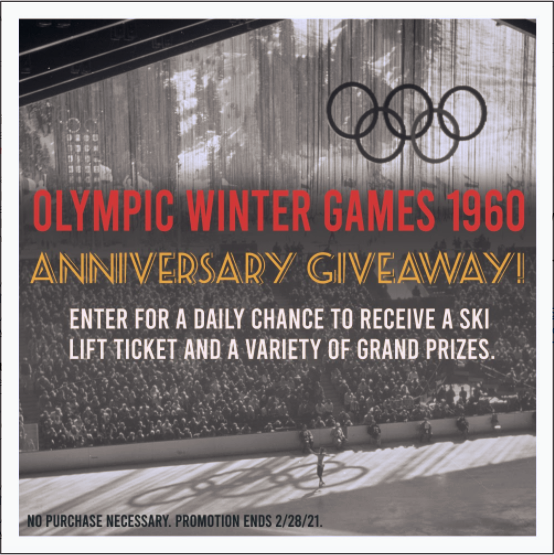 Photograph: Olympic Winter Games 1960 – Figure skater Sjoukje Dijkstra of The Netherlands completes her free skating program and wins silver. Photo (c) Bill Briner, used by permission. All Rights Reserved.
Join along in our 1960 Winter Games historical trivia series. Each day is an anniversary celebration with historical look backs and a chance to win an Adult Midweek 2020-2021 Ticket to Squaw Valley/Alpine Meadows and an entry into the Grand Prize of a 3-Night Stay at a Resort of Your Choice. Plus, Grand Pacific Resorts is making a $10 donation in your name to The SNOW Sports Museum as a commitment to preserving the legacy of the valley.
The organizers of the Winter Olympic Games Squaw Valley 1960 had weather worries top of mind heading into the events.
Meteorologist Irving P. Krick was named "weather engineer" of the Winter Games. Two years earlier, he predicted that the second half of February would bring the best weather for the Winter Games. Krick also declared that if the snowfall turned out to be inadequate, he would come to Squaw Valley to produce more. Both the U.S. Weather Bureau and American Meteorological Society considered him a fraud.
Despite Krick's predictions and promises, the region remained bone dry as the Winter Games drew nearer. With all eyes on Squaw Valley and no storms on the horizon, organizers grew nervous. The Shoshone tribe sent their best dancers to perform snow-dances, but no luck.
Krick arrived on the scene, positioning 20 cloud-seeding generators around Squaw Valley. Still, nothing happened. Then weeks later, storm clouds finally rolled in. Krick immediately fired up his generators, pumping silver iodide particles into the sky, and it began to snow!
By January 10, over three feet of snow covered the valley floor, and over seven feet had accumulated in the mountains. Krick claimed credit, but weather experts conclude that the snowstorms would have arrived anyway.
Join Us on Social Media
As part of our 2020 goals, we will be increasing our communication to everyone as we have more stories to share and projects in the works. Please follow us on Facebook and Instagram to see our weekly posts about iconic Tahoe athletes and the historical artifacts we have collected for the museum.
Thank you from the S.N.O.W. Museum Team!
The S.N.O.W. Sports Museum (dba Squaw Valley Ski Museum Foundation) is a 501(c)(3) not-for-profit organization. The Foundation mission and objectives are to build a world class museum to offer cultural, historical and educational opportunities for people of all ages and abilities, especially youth. All purchases and donations support these efforts. Rights Reserved, Squaw Valley Ski Museum Foundation.