Jeff Hamilton – In Memoriam
Four-time world speed-skiing champion
Olympic bronze medalist
Held world speed-skiing record for two years (1995-97)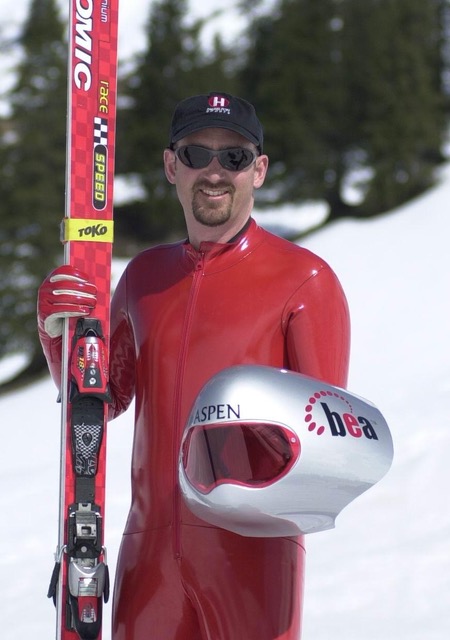 Four-time world speed-skiing champion
Olympic bronze medalist
Held world speed-skiing record for two years (1995-97)
What keeps you inspired to continue to train and be disciplined in your sport?
I retired after our second daughter was born, but I spent 12 years speed skiing for a few reasons. One, the ego part of me enjoyed being the best in the world—four-time world champion, Olympic bronze medalist, America's fastest skier for over 10 years, and the first person to ski 150 mph. Two, I loved spending every spring in southern France, training on the big tracks. Three, speed skiing requires committing, something I really like doing in every part of my life. Four, I was intrigued by the science of speed skiing. Good aerodynamics comes from body position and equipment, and I worked on both all of the time.
What is a piece of advice you would pass along to generations who aspire to follow in your footsteps?
If you are a strong ski racer and your favorite part of ski racing was the speed, give speed skiing a try. Borrow some equipment, go to the big tracks of Europe, and commit.
Please share a fond memory of your time at the Olympics or another race/competition you competed in.
Albertville '92 was the seventh competition of my career; I had no idea what I was doing. Luckily, I received great aerodynamic advice from one of my coaches that changed me from a middle of the pack racer to an Olympic medalist. Being roommates with my buddy Jimbo Morgan added to the unexpected experience in my life.
What is one thing you always do before a race/competition?
I try to take the emotion out of the event. It is easy to be distracted by the emotional fear of crashing or the emotional high of potentially winning. Both are unhelpful in performance. Instead, I focus on my run and the technique it takes to go fast.
What is something people don't know about you and would surprise them?
It might be the fact that I was a poetry major in college, or that the speed did not really give me a rush. I was just very comfortable going fast.
Why are you excited about supporting the SNOW Museum?
I am happy to speak at the museum, share on social media, and lend the museum some of my speed skiing gear.
 >  Sign up for E-news
>  Make a Donation
>  Donate Things
>  Host a "Fireside Chat" (Informational Social Gathering)
>  Volunteer (at the Boatworks temporary museum, collection program, social media input)
>Join our Board/Advisory Board
HAVE A GREAT IDEA…?
Do you have an idea to share with us about gear you could donate? A cool fundraising scheme? Historical photos, items, stories? A fun event for the temporary museum in the Boatworks?